Season 3 key runs
Chance to get 463 ilvl loot
476 ilvl Great Vault rewards
How are you, dear Customer? My name is Librarian Husky. Embark on an epic journey through one of the most challenging PvE activities in the World of Warcraft game with our HuskyBoost boost. This fast and efficient boost offers a single run through one of the eight new and difficult Mythic plus dungeons added in the latest expansion. Get ready to experience high-stakes, heart-pounding excitement as our professional boosters carry your character to victory.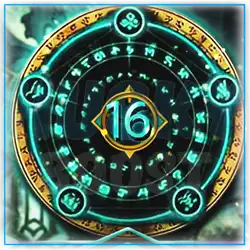 Why should I buy the Mythic 16 WoW Boost?
With our boost, you can choose the Mythic +sixteen keystone you need, with each dungeon offering its own unique rewards. To ensure you get the best possible experience, our managers are available to help you choose the right dungeon and answer any questions you may have. So why wait? Get ready to claim your share of the powerful rewards that await in the Dragonflight Mythic sixteen dungeons today!
What do Customers receive?
You will get the completion of a single or just a few dungeons with mythic+sixteen keystones without a timer.
You will obtain some pinnacle items from the Great Vault of the week with a high-level of 415.
You will obtain 135 excellent points of valor from every dungeon run.
You will obtain the best achievement called Keystone Master – season one for DF expansion.
You will obtain a single primal focus concentrated item for a single dungeon completion. And for ten runs craft a single item of Infusion (for crafting items within levels 408 and 418).
Requirements for mythic +16 carry:
For m16 key level boost
Afk carry is possible. Please be able to hit to boss one time to receive loot.
Don't ruin the key. If the Customer is interrupting the boost process (a lot of mobs aggro/boss mechanic fail / viping the party), Huskyboost will convert this service to pilot mode, or if it was "with timer" service – charging the customer for nontimer.
How does Mythic 16 WoW Boost work?
Express speed – We will complete your order with a higher priority, and the completion time will be faster by 30%.
Completion time
It will take us from thirty to fifty minutes.
Additional options
Broadcast – Want to spectate the whole process of farming items & completing your order? No problem, you will be able to do it. Our professional player will start the stream for you.
I'd like to get the in-timer dungeon – Our professionals will complete an excellent dungeons in-timer option.
I'd like to add one loot trader – You are free to choose a single character with the same type of armor in order to boost the possibility of obtaining some high-level loot.
I'd like to add two loot-trader – This is just the same option as for a single character, but there will be more loot to obtain.
I'd like to get the four mythic+ runs – You are free to select one of two given rewards of level 415 from the Great Vault of the week.
I'd like to get the eight mythic+ runs – You are free to select one of three given rewards of level 415 from the Great Vault of the week.
Quick note: By selecting loot-trader options, you can quickly boost the possibility of obtaining some high-level loot of level 398. This is a great way, but the chances of obtaining the loot itself are not guaranteed.
Requirements
Your character level should be not less than 70.
Buy Mythic 16 WoW Boost now!