Home – New World – Faction Reputations
Hello and welcome everyone! Husky's here with yet another New World boost, highlighting the Faction Reputation. We will explain to you how it is possible to increase your rank. So prepare to make notes to not get staggered later! Doing quests is a great way to level up, make some cash, and get company tokens. But once you reach 3000 tokens for the first time, you will learn that this is the cap. Until you rank up in your company, that is.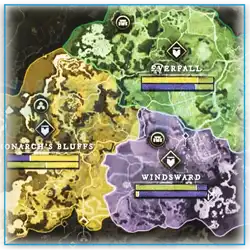 Why should you buy Faction Reputation Boost Service?
In order to do so, you need to meet two requirements.
First, you should have reached a reputation cap of three thousand, and second, you should be at least level 20. Earning three thousand faction tokens in NW, by the way, will definitely take you some time, so consider buying a reputation carry.
Increasing an NW faction's reputation will take a lot of time without a boost.
Level details
If you're level 20, you can now travel to Brightwood, which is north of Everfall. There, you talk to the NPC that represents your company and offers quests. This NPC will now give you a mission. In order to fulfill it, we recommend either being around level 23 or bringing a friend along.
Of course, you can maybe manage to do the task by yourself. Please note that if there are not too many people around who might help, consider placing a camp close by the target location. It would be very wise. Taking the reputation boosting service we have to offer will free you of this waste of time, and will instantly get you the New World faction rank you want.
Brightwood location
The location you need to get to is not too far south of Brightwood. It requires you to kill Gheist Malikor, which is a level 27 Elite Wraith. Once you're done so, pack up, travel back to Brightwood, talk to your company's NPC, and there we go. You have ranked up to the rank of Scrivener, congratulations!
We hope this little guide helped you grasp some understanding of the mechanic. Husky will keep you updated with more interesting strategies, so make sure to visit our WoW boost shop frequently. See you soon!
Buy our New World reputation carry, and gain any faction rank you want.
Fast completion time for Faction Reputation Boost Service
We have an insanely fast completion time for the customer's orders. How so? We have a special. We have a sophisticated order fulfillment technique. As soon as we receive your order, it will be completed in no time, guaranteed. Anyway, there is a support chat on our website. Feel free to ask any additional questions about our services. If you are looking for a good and fast service – you are at the right place.
Low prices for our Faction Reputation Boost Service
The price for our services is extremely low. Well, this is a free game, so we want to make everything fair. HuskyBoost has the lowest price for all of the boosting services. However, if you find somewhere even lower price – let us know, and we will get you a discount. That's a fantastic offer that you can't refuse. Not only will you have it even cheaper, but the service delivery is extremely fast with perfect completion quality.
Excellent 24/7 Support
During the order completion, you will have 24/7 chat support from one of our managers. So whenever you'd like to ask any question about the order – the answer will be given in a matter of minutes. So you will be aware of all actions booster is doing on your account.
How does Faction Reputation Boost Service work?
A lot of positive reviews about HuskyBoost
We have a vast amount of reviews on Trustpilot and other reviews websites. When creating the order, feel free to accord to all of them. Be sure that we are professionals providing game-boosting services for a long time. We have kept gaining our reputation for years. Each review is open to public view so you can check them all. We are safe, honest, and fast, and quality service for many other games.