Nous terminerons le premier raid de l'extension Dragonflight en difficulté héroïque. Pré-commander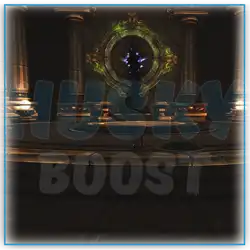 Bienvenue, cher client ! Appelez-moi bibliothécaire Husky. Que pensez-vous d'un nouveau raid du Caveau des Incarnés ? Eh bien, que diriez-vous qu'il sera terminé sur une difficulté héroïque. Il vous rapportera de nombreuses récompenses, alors profitez-en pour être l'un des premiers joueurs à les obtenir grâce à notre service Boost héroïque du Coffre des Incarnés.
Pourquoi devrais-je acheter le boost héroïque du Caveau des Incarnés ?
Avec l'aide de nos boosters, vous pouvez facilement et rapidement détruire les huit boss du raid VotL en difficulté héroïque. Ils vous accompagneront à travers tout. Le nouveau patch 10.0 a ajouté un équipement unique et solide au jeu, alors profitez-en pour l'obtenir maintenant. Humiliez les deux derniers boss les plus meurtriers appelés Raszageth et Primals. Procurez-vous de nouvelles montures uniques, des objets de haut niveau, des réalisations d'honneur et un ensemble de niveaux de Primalist lui-même ainsi que des héros d'Azeroth.
Comment ça marche ?
Que reçoivent les clients ?
Nous terminerons l'intégralité de la course Vault of the Incarnates (consultez notre option de butin personnel).
Nous détruirons les huit boss, défaite de Raszageth garantie.
Possibilité d'obtenir le butin de haut niveau et des objets jusqu'à 411 et 418 pour le dernier boss.
Possibilité d'obtenir l'ensemble d'équipement de type difficulté héroïque auprès de Primalist.
Vous obtiendrez l'unique Ahead of the Curve : Raszageth, le succès FoS Storm-Eater.
Vous obtiendrez le succès Vault of the Incarnates pour avoir terminé l'intégralité de la course en difficulté héroïque.
Heure d'achèvement
Cela ne prendra que trois heures. Nous terminerons toutes les commandes dès la sortie de l'extension Dragonflight.
Remarque rapide : nous proposons une option de butin personnel ; veuillez consulter notre tableau en fonction de votre heure locale. N'hésitez pas à nous poser des questions.
Vitesse d'exécution
Vitesse express : nous traiterons votre commande avec une priorité plus élevée et le délai d'exécution sera plus rapide de 30 %.
Options supplémentaires
Diffusion – Vous voulez assister à l'ensemble du processus de production d'articles et amp ; finaliser votre commande ? Pas de problème, vous pourrez le faire. Notre lecteur professionnel commencera le stream pour vous.
Self-play – Interagissez avec nos boosters en jouant sur votre propre personnage lors de la finalisation de la commande. Suivez-les simplement et broyez des ressources, des objets, des XP, etc.
Loot-trade – Laissez-nous vous offrir de 1 à 15 cornets supplémentaires avec la même armure que vous portez. De plus, nos professionnels échangeront tout le butin qu'ils ont ramassé lors de la commande afin que vous puissiez obtenir encore plus d'articles !
Quels articles pouvons-nous garantir ?
Si l'option de butin personnel est choisie, nous ne pouvons pas vous fournir de butin supplémentaire.
Un commerçant – Obtenez au moins 2 objets supplémentaires.
Deux marchands – Obtenez au moins 3 objets supplémentaires.
Trois commerçants – Obtenez au moins 4 objets supplémentaires.
Quatre marchands – Obtenez au moins 5 objets supplémentaires.
Cinq marchands – Obtenez au moins 6 objets supplémentaires.
Sept commerçants – Obtenez plus de 9 objets supplémentaires.
Neuf marchands – Obtenez plus de 11 articles supplémentaires.
Douze commerçants : obtenez plus de 14 articles supplémentaires.
Quinze commerçants : obtenez plus de 18 articles supplémentaires.
Exigences
Le niveau de votre personnage ne doit pas être inférieur à 70.
VotL doit être disponible au moment de la commande.
Un guide rapide sur le Caveau des Incarnés
La nouvelle extension Dragonjflight du patch 10.0 apportera beaucoup de nouveau contenu au jeu. Avec nos professionnels, vous serez le premier à pouvoir prendre contact avec les nouvelles fonctionnalités de celui-ci. Ils vous guideront à travers toutes les pistes de pluie. Vous serez récompensé par une grande quantité de nouveaux objets. Il existe également d'immenses possibilités d'obtenir des montures légendaires et uniques, des objets, etc. Nous ferons tout dès que possible, afin que vous puissiez vous asseoir et vous détendre.
Vous affronterez le mortel et décisif Kurog Grimtotem. Par exemple, il est un maître des éléments légendaires Primal. Heureusement, nous en saurons plus sur le principal antagoniste de cette extension dans une prochaine mise à jour. Avez-vous peur des primales ? Eh bien, vous devrez en combattre plusieurs lors d'une nouvelle extension. Comme Dathea, il est fort et vous pouvez vous faire tuer très rapidement. Elle est proche du légendaire Raszageth.
Achetez le coffre-fort des Incarnés Heroic Boost maintenant !