The Best-looking weapon can be delivered to you quickly.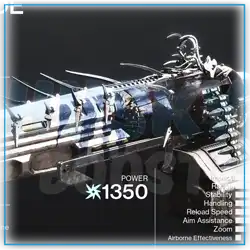 Hello and welcome to the Planck's Stride boosting service offered by Huskyboost! It is a great choice for PvE content due to its flexibility. This particular weapon has very nice perks, which makes it suitable with any combination. Pick up to four desired perks and let us do all the work for you.
Why should I buy the Destiny 2 Planck's Stride Boost?
Planck's Stride is a Machine Gun with a Rapid-Fire frame that also deals Arc damage type.
What do Customers receive?
Desired weapon – Planck's Stride in chosen variation;
During service we will also increase your season pass level, get you some additional exp and power-up your artifact;
Throughout farming process you will obtain some of the Map Fragments currency;
Everything looted during this service will stay on your character;
Influence with The Star Chart Savvy;
How does Destiny 2 Planck's Stride Boost work?
Execution Speed
Great majority of D2 orders are completed within a few hours, but if you wish to have an impact on estimated time those options may catch your interest:
Average – We are going to complete your order by queuing it up with no additional speed-increasing features;
Swiftly – With this option you will make yourself a higher priority client. This means that we are going to put your order on the VIP queue instead of the normal one.
Turbo – Whenever one of the best boosters will be available, your order will be taken care of in the first place.
Additional options
Random – Customer will get random set of perks;
Weapon with desired perks – this option will grant Customers an opportunity of choosing desired roll, which can be up to four perks (crafted weapon included).
Deepsight Triat – In order to get that version, Customer has to have unlocked a specific crafting pattern and desired weapon at Relic. If you don't want to complete attunements by yourself, we are offering "Unlock a Whole Weapon +16 lvl". With that option chosen we will take care of everything;
Top 1 variation – our boosters alongside with community shared absolutely the best presets for PvP and for PvE;
Broadcast – If you wish to be a part of the whole process, we can provide you a livestream of the service.
Requirements
Ownership of the Witch Queen Deluxe Edition or Season of Plunder only;
1560 Power Level (if lower, price will increase. You can purchase our Power leveling service).
For crafting reasons you need to have Weapon Shaping already unlocked.
Buy Destiny 2 Planck's Stride Boost now!